HPMC
Product: Hydroxypropyl Methyl Cellulose(HPMC、MHPC)
Chemical Name: Cellulose hydroxy propyl methyl ether; Hypromellose, Cellulose, 2-hydroxypropyl Methyl ether. Cellulose hydroxypropyl methyl ether Hyprolose;
CAS Registry Number:[ 9004-65-3]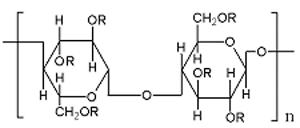 R=-H,
-CH
3,
-CH
2CH(
OR)CH
3
Sources:
The starting materials for manufacturing HPMC are selected from pure cotton cellulose. The synthetic process incorporates treatment of alkali cellulose with propylene oxide and methylene chloride in an organic solvent-water mixture. The whole process is automatic and monitored by machines. This product does not contain any additives, animal organs, lipids or oils.
Physical properties:
1. Appearance: HPMC is a nonionic cellulose ether, white grayish-white powder or granule,odorless and flavorless, soluble in cold water, glacial acetic acid, ethanol, methanol and propylene glycol, slightly soluble in acetone depending on the degree of substitutions, practically insoluble in hot water, ethylene glycol and toluene. HPMC is dissolved in a mixture of 10% methanol and 90% methylene chloride to form colloidal solutions.
2. The solution of HPMC has surface activity, high transparency, and stable performance. When heated at certain temperature, the solution becomes cloudy or forms flocculent gel. However, the solution becomes clear again after cooling. Different types of HPMC have different gelation temperatures. The solubility varies with the viscosity. The lower the viscosity, the higher solubility it has. The different types of HPMC are different in some properties and their solubility in water is not affected by pH.
3. Particle sizes:100% pass rate in 100 mesh.
4. Apparent density:0.25-0.70 g/mL (usually about 0.5 g/mL),specific density 1.26-1.31mL.
5. Color change temperature:190-200℃; Carbonization temperature:280-300℃.
6. Surface tension:42-56 dyn/cm (2% aqueous solution).
7. The higher methoxy content in HPMC, the lower gelation temperature, and the higher solubility in water and surface activity.
8. HPMC has some other characteristics, for example, thickening property, pH stability, retention of water, excellent film-forming property, good disperse and adhesion ability.
Applications:
1. Architecture industry
A. HPMC is used as water-retaining-agent in all kinds of compo materials, such as mortar, plaster, putty powder and other adhesive materials. It enhances the spread ability and the pump ability, lengthens the operable time of the wet materials.
B. HPMC is used as adhesive for tiles, marbles, plastic ornaments and plaster tone. It also reduces the dosage of cement.
C. The water retention property of HPMC leads the pulp not to dry too quickly, avoids crackings after spreading, and enhances the intensity of the coating.
2. Paint industry
HPMC is used in paint industry as thickening agents, dispersing agents and stabilizers. It has good intermiscibility with water or organic solvents.
3. Printing and ink printing
HPMC is used in printing ink industry as thickening agents, dispersants and stabilizers.
4. Plastic industry
HPMC is used in plastic industry for forming release agents, softeners, lubricants and so on.
5. Others:
HPMC is also widely used in the leather and paper industries, fruit and vegetable fresh-maintaining and textile industry and so on.
HPMC specification
Item
Brand No

ME

MF

MJ

MK

Hydroxypropyl,wt%

7.5-12

4.0-7.5

23.0-32.0

4.0-12.0

Methoxy, wt%

28.0-30.0

27.0-30.0

16.5-20.0

19.0-24.0

Ash, wt%

≤1.0

≤1.0

≤1.0

≤1.0

Water, wt%

≤5.0

≤5.0

≤5.0

≤5.0

Gel temp,℃

58-64

62-68

70-75

70-90

PH Value

4-8

Appearance

White powder or granule

Fineness, mesh

80,100,120

Viscosity mPa.s

See viscosity table
| | | | |
| --- | --- | --- | --- |
| Viscosity (mpas) | Viscosity range of 2% water solution(mpas) | Viscosity (mpas) | Viscosity range of 2% water solution(mpas) |
| 5 | 3-9 | 15000 | 13000-17000 |
| 15 | 10-20 | 20000 | 18000-22000 |
| 25 | 20-30 | 40000 | 36000-45000 |
| 50 | 40-60 | 60000 | 56000-65000 |
| 400 | 300-500 | 75000 | 70000-80000 |
| 1500 | 1200-1800 | 100000 | 85000-130000 |
| 4000 | 3600-5500 | 150000 | 130000-180000 |
| 8000 | 7000-9000 | 200000 | |
| 10000 | 9000-11000 | | |
For viscosity and different grade, we can adjust as customers' requirement.
Hydroxyethyl Cellulose (HEC)
Other names: HEC;Cellulose, 2-hydroxyethyl ether ;Cellulose, Hydroxyethyl ether;Natrosol
CAS Registry Number:[9004-62-0]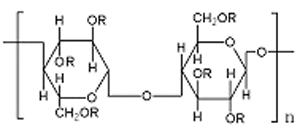 R=-H,
-CH
2CH2OR
Physical properties
1. Appearance: HEC is a white, yellowish-white or grayish-white powder or granule, soluble in hot and cold water to form a colloidal solution and no precipitate occurring under high or boiling point, practically insoluble in acetone, alcohol and toluene. Its article size:40 mesh screen ( ≥99% );
2. Softening temperature:135-140
℃
;apparent density:0.35-0.61g/ml;decompose temperature:205-210
℃
;moisture content equation size: 23
℃
;50%rh--6%,84%rh--29%;
3. The viscosity of water solution is almost stable in pH2-12. But the viscosity of the solution will reduce out of this pH range.
HEC is a good colloid thickener for high concentration electrolyte solutions. The solutions are stable even in the presence of other water-solubility polymers and surfactants.
Applications
1. water-based latex paint:HEC is used for protecting colloid. It can be used in vinyl acetate emulsion polymerization to enhance the polymeric system stability within wide pH conditions.
2. HEC is used in the finished product for making the pigment and padding additive homodisperse.
3. HEC is used in styrene, methacrylate and acrylonitrile suspension polymerization as dispersants.
4. Petroleum drilling: HEC is used as slurry thickener.
5. Toothpaste: HEC has salt-resistance and acid resistance character, which increases the stability and mouth-feeling of the toothpaste. The water retention and emulsifying ability of HEC also keep the toothpaste soft and moisture.
6. HEC is used as a component in water-based inks, water-based inks, textile printings, dyes. It is also used in paper manufacturing and daily chemicals.
Product: Hydroxypropylmethyl Cellulose phthalate(HPMCP)

Hypromellose Phthalate ,HPMCP,Hypromellose Phthalate,Monophalic acid esther of hydroxypropyl
CAS Number: 9050-31-1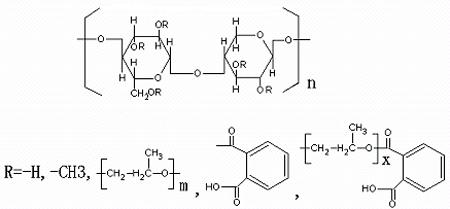 Applications:
1. HPMCP is used as a component for intestine-dissolving coating materials, because of its plasticity and excellent coating property. HPMCP improves the appearance and enhances the intensity of tablets, and reduces the dosage of plasticizer in coating materials. HPMCP can be used with shellac(about: 80/20)to enhance the resistance to stomach juice. Tablets can be dissolved at lower pH value, usually between pH5.0 and pH5.5. Therefore, tablets can dissolve out quickly and have high bioavailability.
2. HPMCP has favorable storage stability and can be stored for 3-4 years at general conditions.
3. Preparation of coating solution: HPMCP is commonly used as 3-6% solution in organic solvents, such as dichloromethane / ethanol(50/50), acetone / ethanol(50/ 50)and ethanol / water(80/20).