Nano sliver powder
Product description
Silver is relative stabile matter and does not dissolve into water,the antimicrobial and sterilization of this product does not so strong and wide by itself. This problem is not to be resolved in macro world, so we must look for results in micro world. Nano technology is a new science and technology that bases on three basic sciences of quantum chemistry, datum chemistry, biochemistry. Through making the silver material into micro world and get it to 10-9m nano degree, Abundant use its surface effect and utilization which have many kinds of new special characters and effect are different with macro world, Realizing its characteristics of durable effect, broad spectrum, strong antimicrobial, good stability and has strong reflection after it meets water. Due to the surface of nano silver and capillary activity is becoming much bigger, so that it has special antimicrobial and sterilization functions.
Product Feature
Dispersed and well proportioned, safety and credibility
Producing different silver concentration powder
Producing much high concentration colloid silver and many kinds of solution (5 - 10wt%)
It has very high purity and does not yield impurity when use it
Nontoxic and no pollution to environment
Antimicrobial, sterilization, preventing mildew, deodorization and releasing infrared, etc.
Due to the osmosis of nano particle has the merit of anti-washing, it can make into transparent products
| | |
| --- | --- |
| ITEM | spec |
| Ag%≥ | 99.9 |
| Pb%≤ | 0.005 |
| Cd%≤ | 0.001 |
| Fe%≤ | 0.001 |
| Cu%≤ | 0.003 |
| Sn%≤ | 0.001 |
| As%≤ | 0.001 |
| Sb%≤ | 0.002 |
| Color | Dark grey |
| Particle size nm≤ | 100 |
| Bulk density g/cm3 | 0.312 |
| Surface Area sqm/g | 5.37 |
银粉的遂道扫描电子显微镜图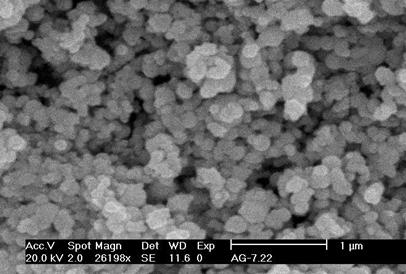 3、性质:灰黑色粉末,密度10.50,熔点960.8℃(纳米银粉低于此点)沸点2212℃。
4、主要用途:医药抗菌、消毒;国内用于抗艾滋病药物,用于冶痤疮,用于消毒粉;化工催化剂等。
产品特性: 广谱抗菌、杀菌、防霉、除臭、催化。抗菌率达到99.99%.
无毒对环境无污染.
具有抗菌、杀菌、防霉、除臭、释放远红外线等特性。
由于纳米粒子的渗透性具有抗洗涤的优点.
可用于制作透明体制品.
具有良好的导电性。